TOXFMD SCREENED CHEMISTY® CERTIFICATION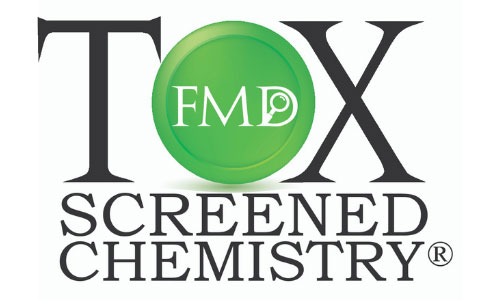 ToxFMD Screened Chemistry® evaluates chemical formulations across multiple industries and product sectors. A formulation's Screened Chemistry score easily identifies formulations that are safer for workers, consumers, and the environment.

The end result of a ToxFMD Screened Chemistry® assessment is a numerical score from 0–50. The scores are also differentiated by the ranges of Preferred: ≥ 35 – ≤ 50 points, Needs Improvement: ≥ 20 – < 35 points, and Phase Out: < 20 points. The Screened Chemistry score is reported on a supplier's Screened Chemistry certificate, facilitates rapid comparison of formulations against a broad range of hazard endpoints, and promotes optimization by rewarding less hazardous formulations with higher Screened Chemistry scores.

The ToxFMD Screened Chemistry® program was created in 2014 to serve the textile and apparel industries, and expanded in 2020 to include cleaning products, coatings, and adhesives used in the electronics sector. Electronics sector formulations are also assessed for compliance with region-specific VOC standards, such as China's VOC standards.
ToxFMD Screened Chemistry® assessments leverage ToxServices' Screened Chemistry database of hazard assessments to quickly and efficiently identify chemicals that pose hazards to workers, consumers, and the environment. Brands, manufacturers, and their suppliers can assess compliance of hundreds formulations in the supply chain, and (more importantly) begin their journey toward selection of safer alternatives.
For more information on ToxFMD Screened Chemistry® services, contact Kristi Gomella, Project Manager, ToxFMD Screened Chemistry® Program Manager kgomella@toxservices.com.
---
ToxFMD Screened Chemistry® Certified Electronics Manufacturing Cleaning Products